Happy Holidays!
Dec 22, 2022
Hi Friends,
As this year comes to a close, I want to thank you all for following me here. Many of you have been reading my blog since my wedding photography days which is so sweet! I appreciate you for sticking with me as my work changes and grows, and while I discover new possibilities in my photographic work.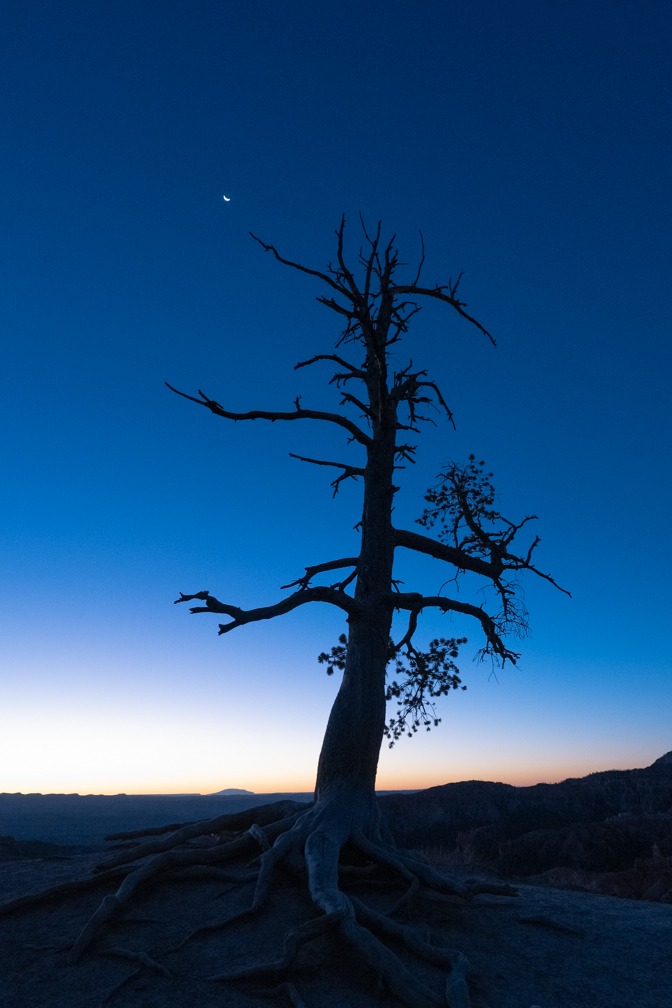 The most recent news is not photographic - I finally contracted Covid this past week! The ONLY reason I want to mention it is, fortunately, it's a mild case and I attribute my 'light' Covid experience to the updated vaccination I received in late October. I'm pleased it feels like a regular cold/flu with an average fever which is gone now and I do expect to be able to enter society in a few more days, masked!
With so much time resting in bed this past week, I've been planning ahead for 2023. I am toying with some new photographic projects, completing other photographic projects left hanging or have been too busy to get to - such as editing all the new photos I made in Bryce Canyon and Zion National parks in October, which is a daunting task as I was trigger happy the whole time with my camera! The lead image you see above is a favorite of mine from Bryce Canyon and it has been a best-seller during my open studios - a portrait of a very old pine tree and a sliver of a moon before sunrise one morning at the edge of Bryce Canyon - I fell in love with this tree and it's amazing roots and visited it each and every morning that we were there.
We also visited Zion Canyon - this image below was made on a hike to Angels Landing. We did not climb Angels Landing. The reasons were one, I did not have the courage to climb it. Two, I would have had to sign a waiver in case I fell off the rock! I decided against it. But, we hiked as far as we could and sat and admired it over lunch from the nice flat peak where I took this photo below! Angels Landing is the darker, very narrow peak in the foreground. We heard from the brave hikers that had climbed up there that day that there was a chain you could hold onto as you scaled the narrow top of it. ... ah-hum, not sure that would have helped me as it didn't look like there was much room for error. Have any of you done this? If yes, please share your experience!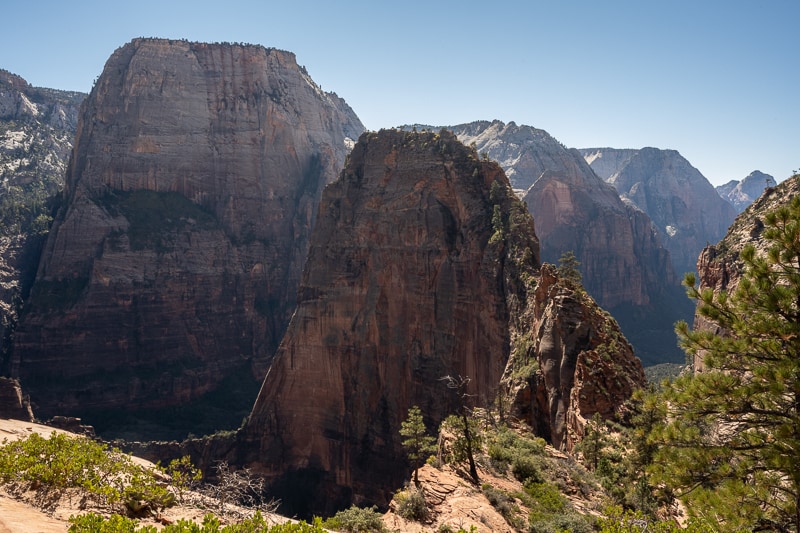 One thing I have learned about travel and/or landscape photography, it's very hard to be at a location/destination with perfect light, especially if you've never been there before and if you have only one chance. Also, if you have a 7-hour, one-way hike to a location, you'd have to camp to be there in the perfect light. Since that wasn't happening, I let it all go. I was simply happy to be there in any light, and come home with photos and tales to tell! I can see going back to these parks and experiencing it again and perhaps seeing it at different times of the year. If you've had any experiences in Zion or Bryce, do share, I would love to hear about your favorite spots and times of the year.
That's all for now - wishing you good health and happiness in the coming new year and please stay safe!
Kim